What is Listener Responding by Feature Function Class (LRFFC)?
As we talk about in our blog post on VB-MAPP terminology, Listener Responding by Feature Function Class (LRFFC) is a really important skill for children to learn in their language development. It is a advanced type of listener responding behavior where a student is asked to identify an object by its associated characteristic. For example, a student may be asked to identify an object when given a part of it (feature), a purpose/action (function), or its category (class). Here are some feature function class examples:
"Touch something you eat" (function)
"Touch something that has ears" (feature)
"Touch an animal" (class)
When children are able to follow these instructions, they begin to develop a deeper understanding of the objects in the world around them. They can start to identify their characteristics and the categories to which they belong. This helps to teach them adjectives and verbs associated with different objects. Typically, this skill can begin to emerge around 2-3 years old.
All of our digital resources are

completely free to download

. In exchange, we just ask that you sign up for our monthly newsletter. You will see the form after clicking download.

We promise to never SPAM you or sell your information.
You can unsubscribe any time (even immediately after subscribing!).
How to Use The Feature Function Class List
The data sheet is divided into eight columns. There are two columns for features, one column for functions, and one column for class (categories). Simply select a feature or function that you would like to see if your learner already knows. For example, let's select the feature "pillows". You can show your student a picture of a bed, a dog, and a car. Ask the student to "touch the one that has pillows". If they are able to select the bed, then you can mark that feature as mastered by writing today's date. Continue to assess which features, functions, and categories your student knows so you can identify which you need to teach.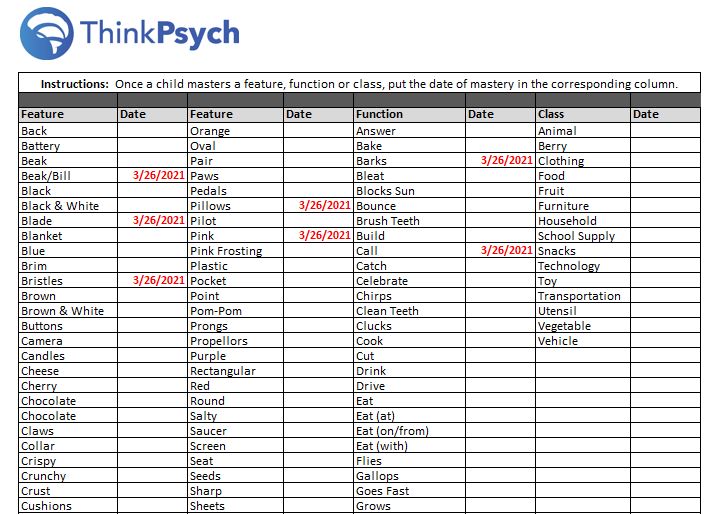 Finding Materials to Use for LRFFC
One of the hardest things about doing effective ABA therapy is finding the right materials to use with your students. That is why we created our set of language learning cards. Our First Nouns Picture Flash Cards are designed to be used with the data First Nouns data sheet above. There are pictures included to teach all of the features, functions, and classes on this free list. Best of all, we include the feature-function-class words on the back of each card!
The BEST Language Learning Flashcards (Designed by a BCBA!)