Free Task Analysis Downloads
Task analysis is a strategy in ABA where you break down a complex skill like brushing teeth into simple component steps.  You can then use the task analysis to teach the skill to individuals with learning difficulties or developmental delays. Research has shown that task analysis can help children with autism learn functional skills more quickly and with less frustration.
This download contains example task analysis data sheets for:
Brushing Hair
Brushing Teeth
Washing Hands
Using the Bathroom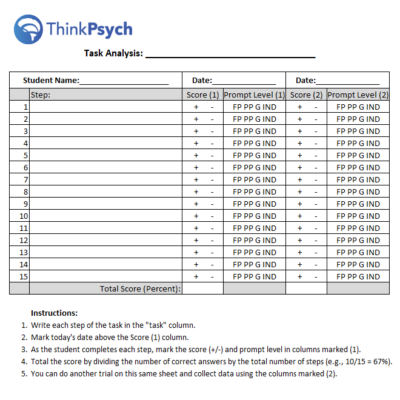 This download contains an empty task analysis template that you can fill out for your student. It includes columns for prompt level and scoring using a plus or minus for data collection. Each page contains columns to record data for two trials.
This download contains example task analysis data sheets for:
Putting on a Jacket
Putting on Pants
Putting on a Shirt
Putting on Socks and Shoes