Fun and Easy Language Learning
Our Picture Play cards have one purpose: make it fun and easy for kids to start talking! Play with our cards and see just how fast they start picking up new words. In just 5 or 10 minutes each day, SUPERCHARGE your child's language development. Helping kids communicate what they want is a game changer: fewer tantrums and more joyful family time.
Designed By Psychologists
Teach 150 new words: Animals, Food, Fruits, and Vegetables. Perfect for kids in:
Preschool
Kindergarten
Early Intervention
Speech Therapy
Special Education
These unique picture cards were specially designed by language experts. They are aligned with the latest research based practices in education to encourage learning for exceptional children of all ages and ability levels.
How Our Picture Play Cards Are Different
Quick and Easy Learning
Our picture cards feature real-life photos printed on a plain white background. These clear and distraction-free pictures help your child focus on learning words. The back contains sight words to help teach reading.
Easy to Sort and Organize
Keep your cards organized with a handy travel-friendly box with tabs. The cards are sorted by category for fast and easy teaching.
Built to Last for Years
These flashcards are made extra thick and durable to withstand liquids, tearing, and ripping! Perfect for toddlers and kids who are rough on their toys.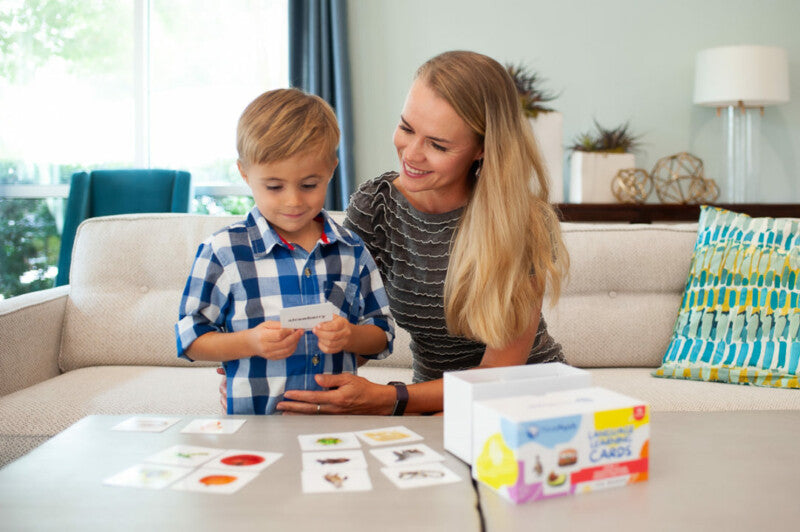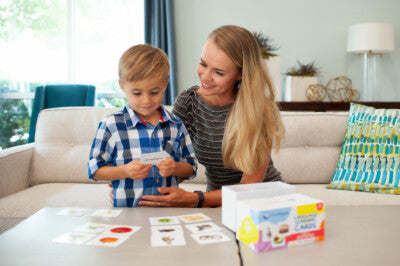 Teach More Than Just Language
Use our Picture Play Language Learning Cards to teach:
Matching by Features
Sorting into Categories
Picture Identification (Receptive Language)
Picture Labeling (Expressive Language)
Reading and Sight Words
Vocabulary
About the Creators
Dr. Schulman is a licensed clinical psychologist with over a decade of experience in school consultation and the evidence-based treatment of anxiety, anger issues, developmental disabilities, and trauma. She is a sought-after clinician and renowned trainer of parents, teachers, and other professionals. In her community outreach work, she has trained hundreds of educators and professionals on topics ranging from ADHD to anxiety and social skills training.
Dr. Shcherbakov is a licensed psychologist and nationally recognized expert on ADHD, anxiety, and autism spectrum disorders. He is proud to have helped hundreds of children develop language and emotional regulation skills through his work in clinics, homes, and schools. In addition to being a sought-after presenter at national conferences, he has taught at Rutgers University in the Graduate School of Applied and Professional Psychology.